Quality
Laboratory
The first independent certificated laboratory in Ukraine was founded with the purpose of carrying out of the qualitative analysis of metal and its coating and products standardization.
Our clients will be able to obtain a quality certificate for the products purchased, as well as to request an independent analysis of materials from other suppliers.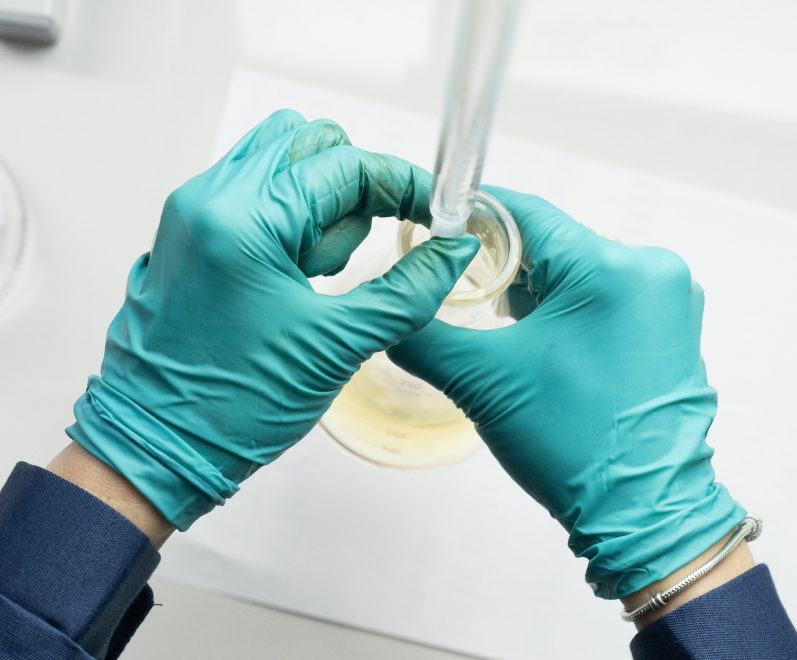 The laboratory specializes in examination of flat rolled steel with zinc and zinc aluminum coating and flat rolled steel with polymer coating according to the following indicators:
Galvanized steel with
polymer coating
Prepainted galvanized steel thickness
Coating thickness
Zinc coating mass
Coating thickness
Resistance to solvents
Specular gloss 60о
Colour difference. Instrumental comparison
Resistance to rapid deformation
Resistance to cracking after indentation
Resistance to cracking on bending
Pencil hardness
Adhesion after deformation
Adhesion after indentation
Galvanized steel
Galvanized steel thickness
Zinc coating mass
Zinc coating thickness
Bend test 180o for adhesion
The amount of oil on the surface of steel
Adhesion after deformation
Resistance to rapid deformation
Surface roughness
Quality
Certificate of conformity
In addition to the guarantee, each of our coils has a certificate of conformity, which declares general characteristics of the metal and shows the results of laboratory tests of product quality control and packaging information.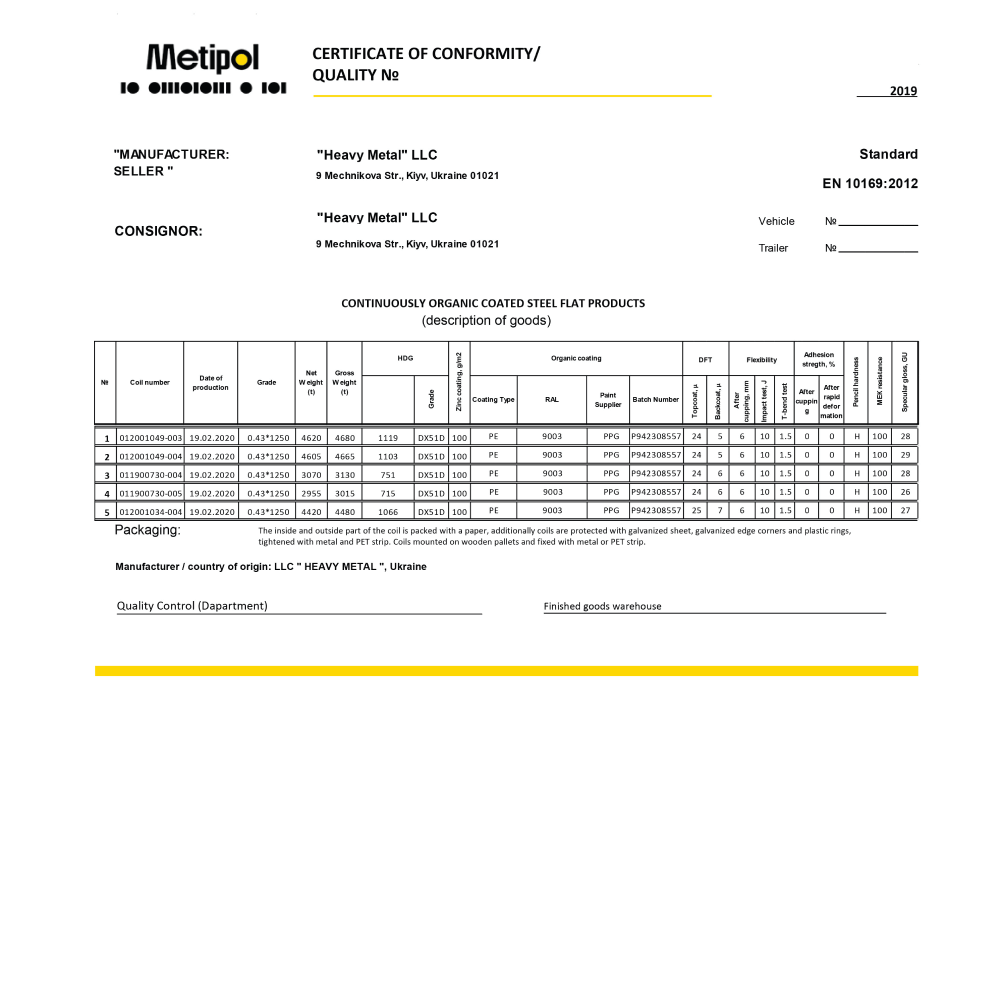 All tests and packaging are performed in accordance with the standards of DSTU EN 10169: 2018 (EN 10169: 2010 + A1: 2012, IDT) «Flat steel with organic coating, applied on continuous lines of colouring of coiled metal (by coilcoat technology). Terms of delivery».
Quality
SEЕ Certificate
Our products have certification of the SEЕ of Ukraine and according to the results of the examination is fully comply with the requirements of the current sanitary legislation of Ukraine, and can be used for their intended purpose.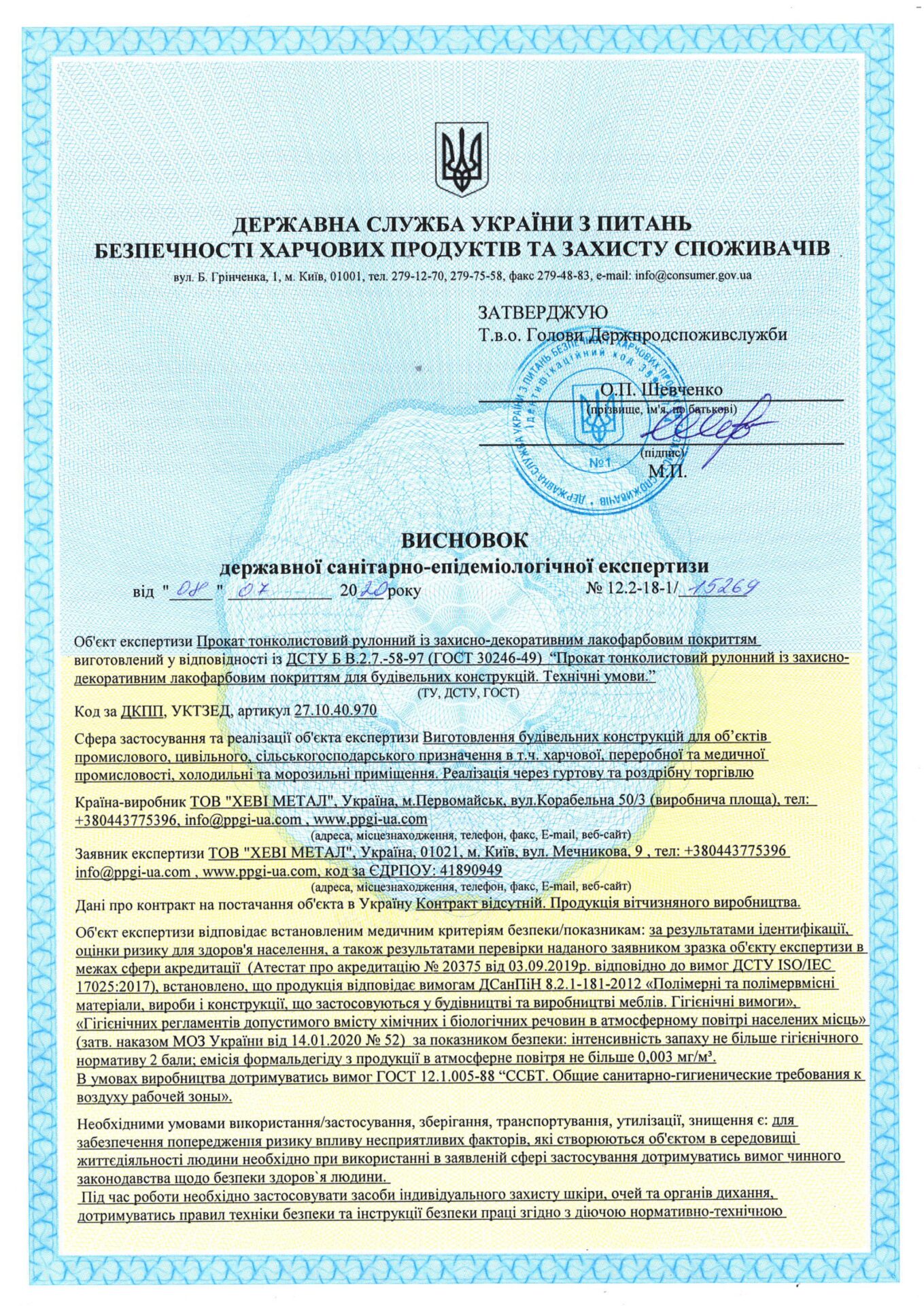 The certificate is valid throughout the entire period of validity of the normative document DSTU B V.2.7.-58-97 (GOST 30246-49) «Pre-painted steel sheet with protective and decorative cover for building structures. Technical conditions».
QUALITY
Warranty
Galvanized steel with polymer coating is a multifunctional material that is resistant to external influences and withstands a wide range of mechanical influences. This material is also reliable for long-term operation.
Depending on your goals and applications, our experts will recommend the most appropriate coating, and our new look at the warranty service will allow you to solve any claim easily.
The warranty period depends on the type of coating and the characteristics of the steel coil*:
| | | |
| --- | --- | --- |
| | Zn140 | Zn200 |
| Polyester | 10 years | 15 years |
| Wrinkle Polyester | 10 years | 15 years |
| DecoPrint | 10 years | 15 years |
| RWS | 10 years | 15 years |
| PVDF | - | 20 years |
| PU-Rock | - | 20 years |
Contacts
Authorized representative in Europe
DAN-STEEL SP. Z O. O.
45 Fabryczna Street,
Tychy, 43-100, Poland
Production facilities and warehouse
Heavy Metal LLC
50/3 Korabelna Street,
Pervomaysk, Mykolaiv Region, 55210, Ukraine